High School
The four-year CIS (part of the Sunny Canadian International School company´s network) is a unique bilingual institution, educating students under the auspices of both Cambridge International Examinations as well as the Czech national curriculum.  The curriculum is designed to empower graduates to continue their studies at Czech or foreign universities. Courses taught in English are led by fully-qualified secondary school teachers having native English from the USA, UK etc. The high school climate is one of mutual trust, respect and support amongst the teaching staff and students.
Simulations of HS Entrance Exams
Registration (Velikost: 227.67 kB)
10. 12. 2022 Czech + Math
25. 2. 2023 Czech + Math+ English
1. 4 .2023 Czech + Math
Registration on

admissions@sunnycanadian.cz

Criteria for Admission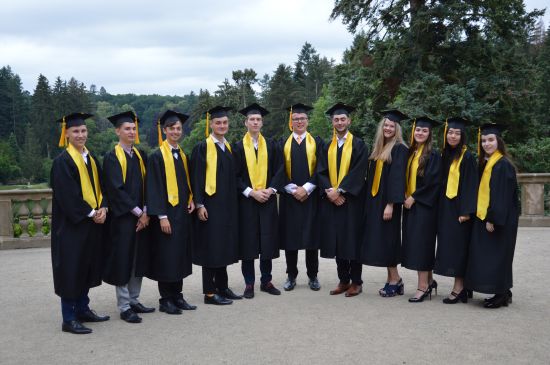 Through the prestigious Duke of Edinburgh's International Award, students have the opportunity to go beyond academic achievement to pursue a highly respected certificate of moral, intellectual, and physical values.
Cambridge International Upper Secondary Examinations

AP Capstone or AP International Diploma

Czech state leaving exams (accredited by MSMT)

Optional seminars in English and Czech

The selection from other languages ​​(German, French, Spanish)

Scholarships for exceptionally talented students

Open pathways to study abroad

Permanently ready for career consultancy as a part of our school counseling center

A modern complex, opened in 2015 – with home room classes, specialized classrooms and laboratories for teaching Physics, Chemistry and Biology, ICT, History and Geography, utilizing a multifunctional sport hall, special rooms for Art, Music and Technical education, with a modern kitchen studio, student club, library and a study room

Friendly and welcoming with our educational environment

Involved and seeking sightseeing trips and partnerships with foreign schools

individual in our approach to students throughout their studies

Admission procedures are published every year on the school's website. A condition is the knowledge of English at B2 level or better.