Thanksgiving Day
11.10.2023
Graduates 2020
Vloženo: 6.11.2019 | Autor: Administrátor | Zobrazeno: 3053x
This school year was really special for our graduates not only because it was the last year of their High School studies, but they were unlucky that the part of the year devoted to the most intensive preparation and farewell events was negatively affected by the coronavirus epidemic and restrictive hygiene measures. For example, no generation of High School graduates in the last seventy years has lost a graduation ball for objective reasons. Therefore, we were very happy that we could organize a traditional graduation ceremony for this year at the appropriate time. The Knight's Hall of the Průhonice Castle provided a beautiful environment for unforgettable moments.
Graduates 2020 repeatedly appreciated the positive climate of the school, the excellent preparation for further study and the individual approach and motivation that they received from the school management and their teachers. There were also emotion and tears in the eyes of the graduates and their parents. In the farewell atmosphere, however, there was often an optimistic view of the future.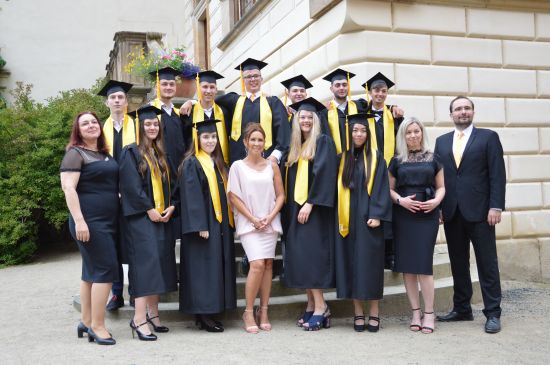 All graduates go to universities both in the Czech Republic and abroad and believe that they will successfully finish them.
We wish you, dear graduates, much success in the coming years and the fulfillment of all your goals.